Investments in Dapeng's major projects post 54.9% growth in third quarter
From:idapeng.sznews.com
Updated:2020-11-06
The Development and Finance Bureau of Dapeng New District said recently that the New District has achieved a record 6.618 billion yuan of investment in major projects during the third quarter of 2020, with a growth rate of 54.9 percent and a completion rate of 82.7 percent, 7.7 percentage faster ahead of the scheduled date and up by 27.9 percent over the same period last year.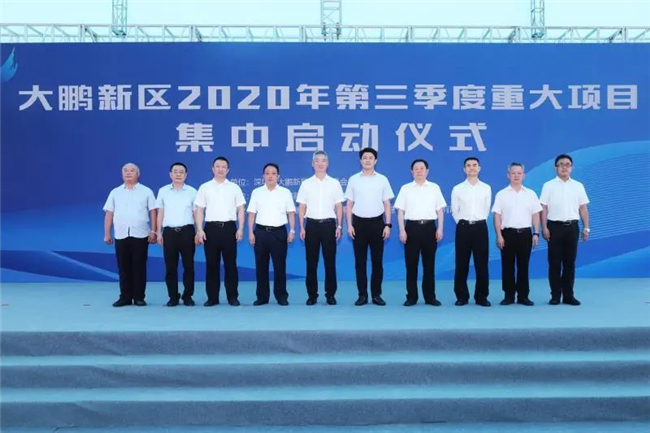 The launching ceremony of the major projects in Dapeng New District in the third quarter of 2020. Photos from idapeng.sznews.com
This year, the New District has attached equal importance to pandemic prevention and control and economic growth. To this end, Dapeng is seizing the great historic opportunities available in the Guangdong-Hong Kong-Macao Greater Bay Area and utilizing Shenzhen's status as a pilot model that demonstrates best practices for socialism with Chinese characteristics.
A computer-generated image of the Hongdouwan residential compound.
To date Dapeng has held two events to kickstart a total of 100 major projects with an investment of 23 billion yuan. In August, Dapeng added another seven projects including the affordable housing project, the Hongdouwan residential compound, to the list of major projects for 2020. These projects have brought a cumulative number of fixed investment worth of 618 million yuan.
Additionally, to better serve and ensure smooth construction of these projects, Dapeng has formed a coordination mechanism to offer targeted services and overcome the impact of COVID-19. As a result, 13 of the 50 major projects under construction have realized their annual goals ahead of schedule, accounting for 26 percent of the total.
The Development and Finance Bureau is following closely the progress and updates of the projects and is submitting a list of updates and problems each month. Thanks to their effort, rail transport made major breakthroughs with construction plans of the phase 3 of Metro Line 8 and the Shenzhen-Huizhou Intercity Railway getting approvals from the National Development and Reform Commission.
Share To: