GBA dragon boat race makes a splash in Nan'ao
From:Shenzhen Daily
Updated:2023-06-26
In an exhilarating display of teamwork, skills and cultural heritages, the 2023 Guangdong-Hong Kong-Macao Greater Bay Area (GBA) Maritime Dragon Boat Race started in the waters off Yueliang Bay in Nan'ao Subdistrict, Dapeng New District, on June 20, when 18 teams and cheering spectators turned the tranquil, picturesque the bay into a vibrant arena of fierce battles.

The two-day race, which has attracted a total of 29 teams from GBA cities to participate, is jointly organized by the city's sports authority and the Dapeng New Area Management Committee.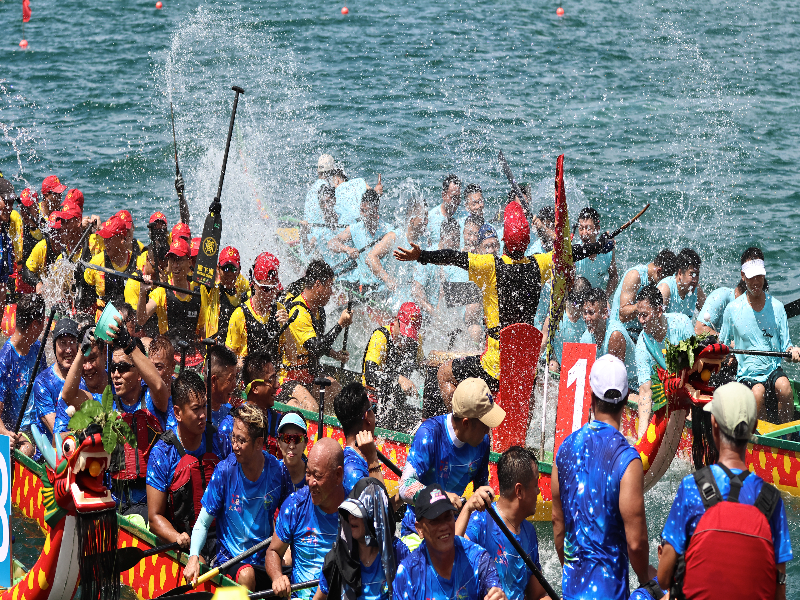 Rowers react after finishing a race in the 2023 GBA Maritime Dragon Boat Race, which kicked off in the waters off Yueliang Bay in Nan'ao Subdistrict, Dapeng New Area, on June 20.
Originally known as Nan'ao Maritime Dragon Boat Race, the event had been successfully held for 19 years before it was suspended for three years due to the COVID-19 pandemic. Boat racing tradition enjoys a long history spanning over 100 years in Nan'ao.
After two rounds of grueling competitions on 500-meter straight courses, Shenzhen Longhua Dragon Boat Team, Dongguan Zhongtang Dragon Boat Team and Shenzhen Dongyu Dragon Boat Team in Group B won the first, second and third places, respectively. Eleven other teams will contend today.
Fun at games, making friends
Sunil Sahu from India, a research scientist at BGI, has been working and living in Dapeng for five years. A sports enthusiast, Sahu has rich experience in dragon boat races. This time in Nan'ao, he trained and raced together with his Chinese teammates from Shenzhen-Hong Kong Swimming and Running Team, during which he had great fun and made good friends, which matters more to him. Sahu said he had participated in many dragon boat races in Guangzhou, Hangzhou, Shekou area in Shenzhen, and Guizhou Province.
A team of women competes in the race.
Changes in Nan'ao wow HK teams
After a three-year absence from the Nan'ao dragon boat race, two Hong Kong teams — Savage International Dragon Boat Team and Hong Kong Titanic Dragon Boat Team — are amazed by Nan'ao's better environment and improved urban development.
"My teammates and I are thrilled to find that Nan'ao is becoming more and more beautiful and developing rapidly. It was just a small fishing village in the early 2000s. What I see today is quite amazing," Li Dongmei, a team member of the Savage International Dragon Boat Team, said.
Li was echoed by Liu Weiqi, leader of the Hong Kong Titanic Dragon Boat Team, which has participated in the Nan'ao dragon boat race since its first edition.
"Today, I saw a brand-new Nan'ao after three years, with cleaner streets, clearer waters and better infrastructure," he said.
Rowers compete in the race.
Colorful events
In addition to the boat race, a diverse array of cultural offerings await visitors during the upcoming Dragon Boat Festival holiday, which will commence tomorrow. Enriching the experience, visitors will be immersed in captivating intangible cultural heritage performances, live concerts featuring renowned artists, photography exhibitions, enchanting outdoor movie screenings and delectable authentic local delicacies.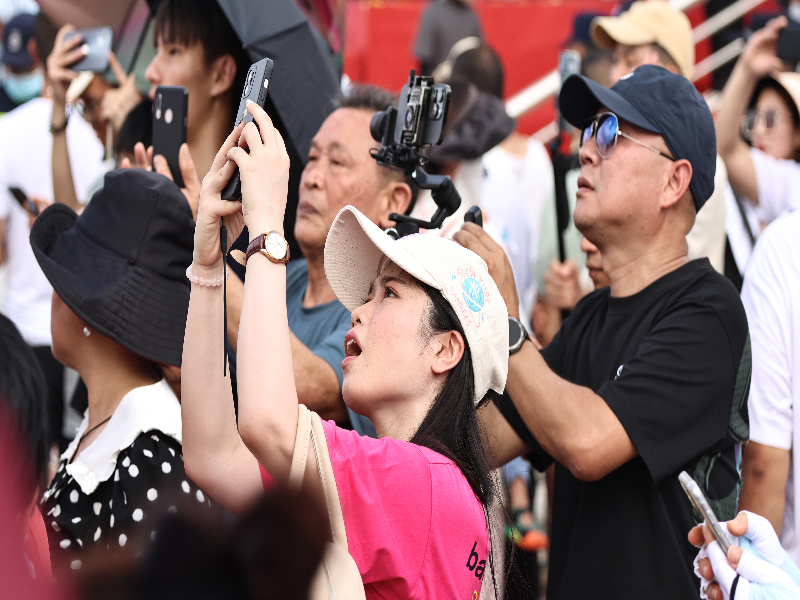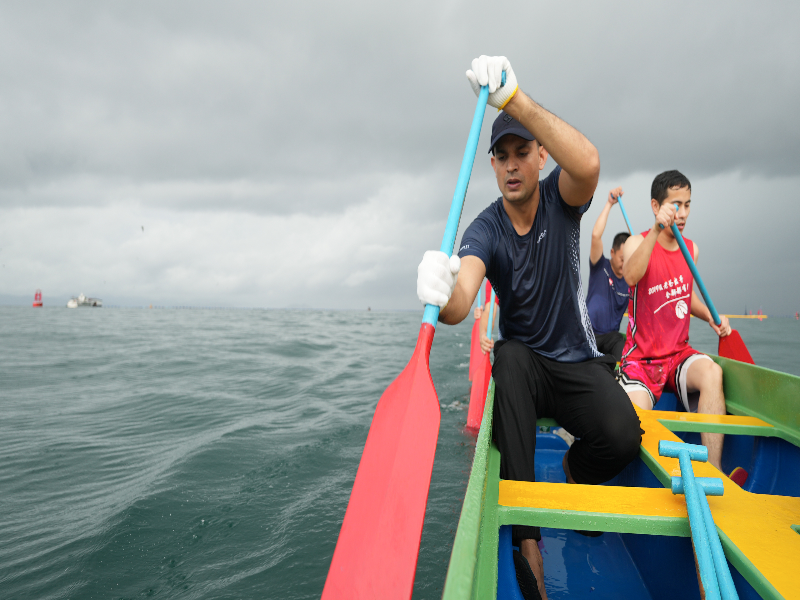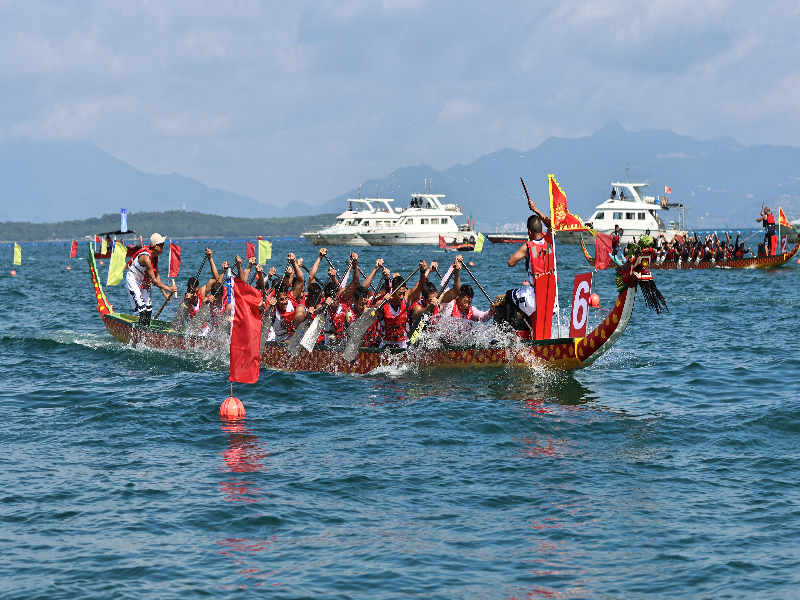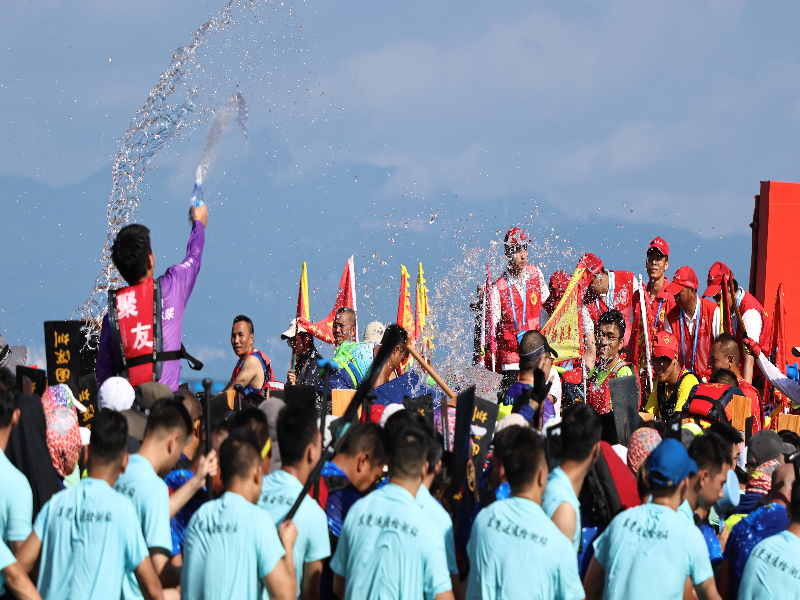 Share To: