Xichong, where stars meet fireflies
From:Shenzhen Daily
Updated:2022-06-29
For many who grew up in the 1980s, before mass urbanization in China encroached on many quiet rustic communities, fireflies were their childhood friends that lit up the miraculous summer nights.
The SZAO is on top of the hill to the east of Xichong beach. Zeng Yuepeng
A pop-science livestream that featured the beautiful scenes of fireflies and stargazing by the staffers of Shenzhen Astronomical Observatory (SZAO) on Thursday night attracted more than 1 million online watchers. During the three-hour stream, they shared the views of the fireflies and the night sky at the observatory as well as their professional knowhow.
Many in the audience left comments expressing their admiration. "I cannot believe my eyes. There are real fireflies in Shenzhen," one person said. "I'm driving down there this weekend, … this is a view not to be missed," wrote another.
This year, thanks to the efforts towards preserving the local environment, Shenzheners are treated with the dreamy scenes of roaming fireflies at Xichong community, Nan'ao, on the Dapeng Peninsula.
Fireflies roam near the Shenzhen Astronomical Observatory on June 10. Zeng Yuepeng
Fireflies find their habitats in warm moist places with lush vegetation. Their larvae, the glow worms, live on the ground and grass near rivers, streams and ponds. Clean air and dark spaces are also essential to their life cycle, since the mature males need to fly around seeking their mates, who are patiently waiting for them on tree leaves.
Chen Qian, owner of the Starry Inn in Xinwu Village, Xichong, said this is a "big year" for fireflies, perhaps due to the reduced human activity during the COVID pandemic, but also thanks to the conscious preservation efforts of the authorities and residents. "I have suggested to my guests to close their curtains after dark. I've also fitted motion sensor lights on the corridors of my inn to reduce light harassment to the creatures."
The Shenzhen observatory, on top of the hill to the east of Xichong beach, proposed early last year to build Xichong into a dark sky community for the benefit of scientific research and astronomy fans.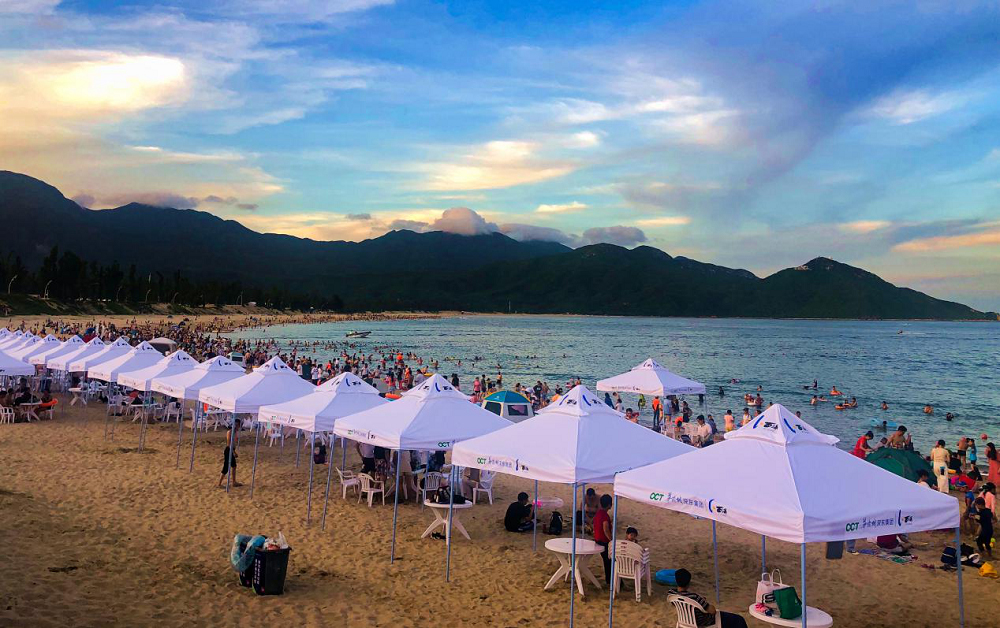 A view of the Xichong Beach.
Xichong, the longest beach in Shenzhen, has a coastline stretching for 5 km. Far from the hustle and bustle of the city and covered in greenery, it is an ideal place to observe the starry heavens and experience the wonders and awe of nature.
"We propose to build a dark sky community not just to guarantee the necessary environment for scientific research, for astronomy fans to observe the sky and for shutterbugs to take photos, but the dark space with its unique appeal will attract vacationers, give people a place to wind down, and help preserve aboriginal flora and fauna, including the fish," said Mei Lin with the observatory.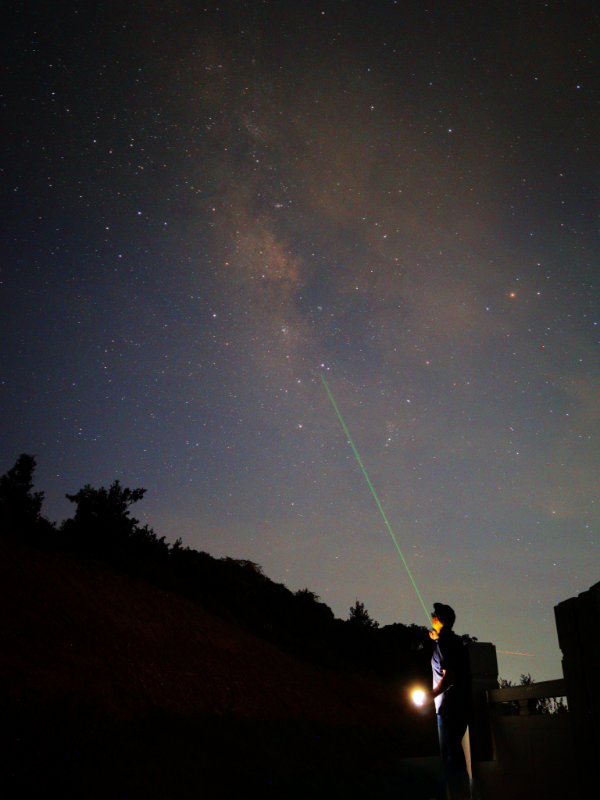 A fan points to the Galaxy in the yard of the Starry Inn in Xichong on Friday night. Courtesy of Starry Inn
Meteorological data revealed that the number of nights suitable for stargazing out of a year in Shenzhen is not shy of that in Yunnan or western Sichuan, he said. If you raise your head and could see nothing in a clear night sky, it's most probable that your environment is lit up by too much city light.
The observatory, closed to public visitors because of the pandemic, thus far has shared 52 livestreams this year, including five long streams attended by a large number of viewers.
"We will also arrange for a big mid-July livestream event for the occasion of the super moon, and create other events for observing the Galaxy, the stunning Eta Aquarid meteor shower and other rare astronomical phenomena when they come along," said Zeng Yuepeng with the observatory.
"For beginners, they can first try to locate the easily recognizable stars such as the Altair, Vega and Polaris and constellations like Ursa Major and Scorpio, all prominent in the summer sky. They can also look for planets, such as Saturn with its beautiful rings," he added.
While it's now impossible to visit the observatory, it's still possible to enjoy the views of fireflies and stars in the nearby villages.
Chen Qian, with a lamp in his hand, leads guests on a field trip to find fireflies. Courtesy of Starry Inn
In fact, the rooms in Chen's inn were all booked for the past few weekends, as were the other around 20 hostels in Xinwu Village.
Chen, who has attended online university courses in geology and astronomy, offers services such as field trips to find fireflies, observe the planets and stars and study the rocks and geology on the Dapeng Peninsula.
"The best season to see fireflies is between May and July," he said, adding that winter skies, however, are better for stargazing and therefore more attractive to astronomy fans.
With the entire Dapeng Peninsula included in a government plan to build a dark sky park and with renovations under way on the area's outdoor lighting, Chen hopes Xichong will draw more visitors as a paradise for stargazers.
"Work on Xinwu Village dark sky park will begin July 2," he said. "Visitors can get a better view of the Galaxy as soon as late July."
A visitor shows a crab he found in the sands of Xichong beach.
Apart from fireflies and stargazing, Xichong has many other exciting events to offer, such as surfing, snorkeling and kayaking. A simple stroll in the woods and a swim in the sea make for a wonderful escape from city life.
Transportation
It takes about 1.5 hours to drive from downtown Futian District to Xichong, where parking spaces are limited. People can also take bus E11 to Nan'ao and then transfer to bus M232 to get to Xichong.
Tips
People who want to appreciate the galaxy or have a clear view of the stars are suggested to check weather forecasts and pick a clear day for their trip.
People are recommended to wear long pants and long-sleeve shirts on night trips to prevent insect bites.
Children are advised against capturing the fireflies.
Fans can follow the official WeChat account of SZAO (ID: shenzhentianwen) to check for information on astronomical phenomena.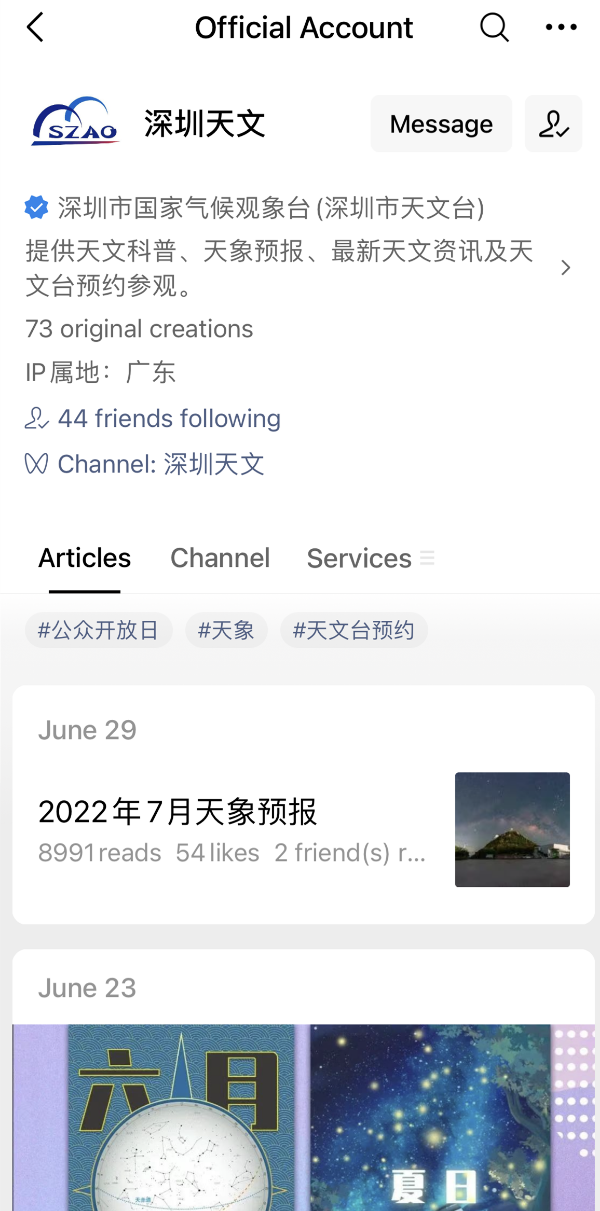 Share To: